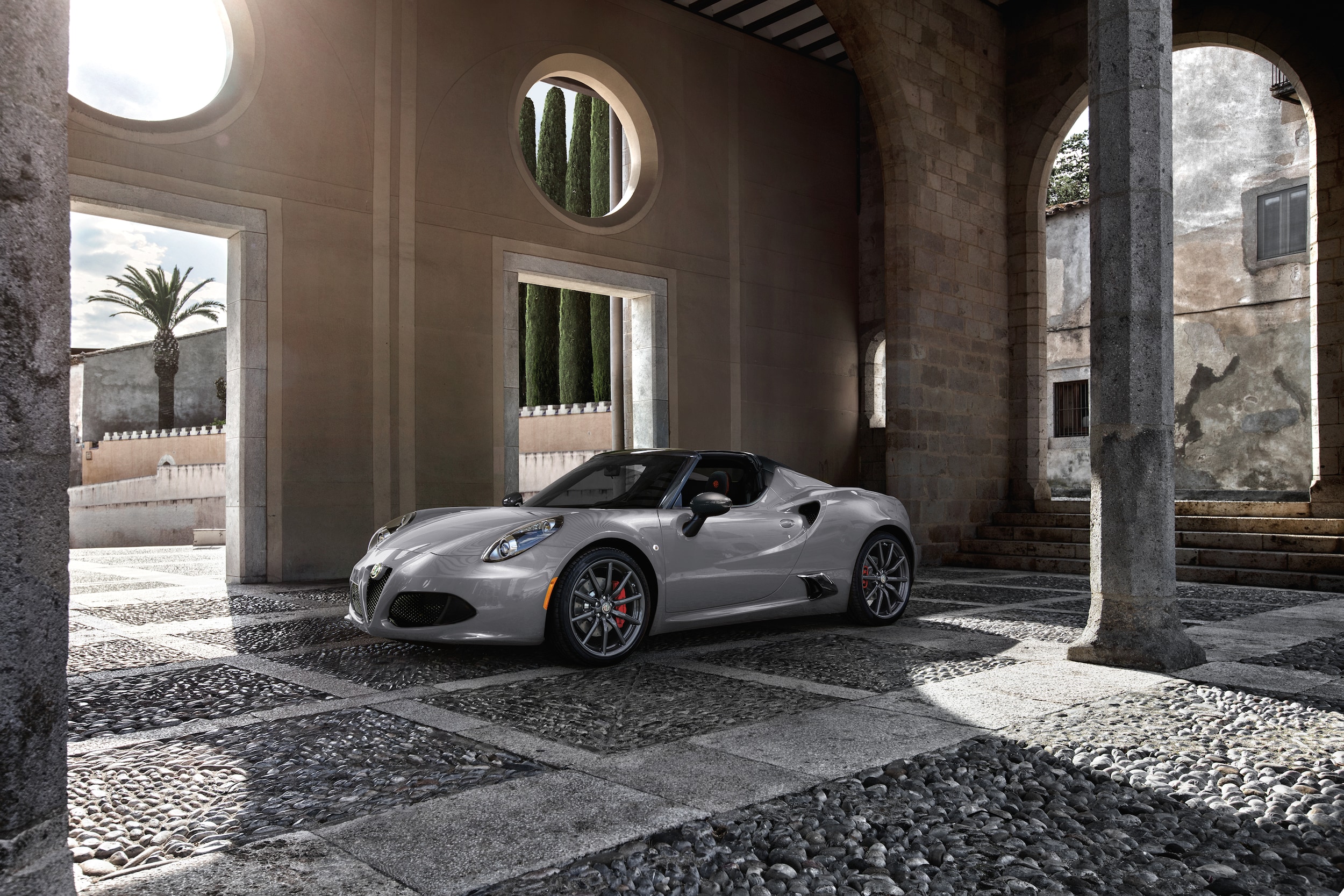 ​
You'll take just one glace at the 4C Spider and be instantly intrigued by its unique and bold design. The 4C spider delivers extraordinary performance and beautiful details that have been carefully designed to enhance your driving experience. This Italian designed car is more than exciting. Each angle, each feature, and color make it more than just four wheels. It is a work of art.
Formula for Innovation
F1 engineers and technicians have worked hard to create cutting-edge technologies on the track that lead to better performance across the Alfa Romeo vehicle lineup. The 4C Spider has been driven by the proud racing heritage of Alfa Romeo to give you a high-octane thrill ride that you'll enjoy every time you get behind the wheel.
The Carbon Fiber Monocoque Chassis is now stronger and lighter than steel and is designed to enhance the 4C Spider's power-to-weight ratio. The 1750 Turbocharged Four-Cylinder engine roars down the road through Windermere, putting out an impressive 0-60 time of 4.1 seconds. The turbocharger and pulse converter exhaust manifold are made to boost torque and respond quickly to command. Driving through Winter Garden will never feel the same once you've taken on the roads in a 4C Spider.
The Sport-Tuned Suspension is inspired by the racing tradition of Alfa Romeo. The 4C Spider features available thicker sway bars that limit body roll even more during racing conditions. The six-speed automatic twin clutch transmission delivers the instant power of a sequential shift but with the convenience of an automatic.
It's in the Details
The 2019 4C Spider looks as good as it drives with performance-enhancing technology that brings your driving experience to the next level. The standard Rear Back up Camera displays video images of the area behind your 4C Spider onto the Rear View Mirror when you shift into reverse. The 4C Spider DNA Pro Drive Mode Selector lets you tailor your driving by choosing your preferred driving mode. The Rear Parking Sensors help make parking maneuvers easier no matter how tight space is.
The 2019 Alfa Romeo 4C Spider is unlike other convertibles on the market. Each detail is designed to turn heads, and that is exactly what you will do. Alfa Romeo of Central Florida is proud to serve Winter Park and Lake Mary Alfa Romeo enthusiasts. Come test drive the 4C Spider and experience what thrilling driving is supposed to feel like.